Focusing on Equity this Women's History Month
Gen celebrated with women-focused activities in the workplace and community.

Kimberly Bishop
Corporate Responsibility
Written by

Kimberly Bishop
Corporate Responsibility
Gen has been busy celebrating Women's History Month with a host of internal and external events held in support of women and girls everywhere. While we support gender equity every day, March gives us a chance to bring additional awareness to our women-centered initiatives.
Women's History Month has been observed every March since 1981 after Congress passed an official proclamation. Originally only a week, it was expanded to a full month in 1995. Women's History Month is a time to celebrate the contributions of women to the U.S. and to celebrate their achievements in every field of work.
International Women's Day, celebrated annually on March 8 across the globe, also recognizes women's achievements. This year, the International Women's Day theme was "Embrace Equity".
Celebrating Women's History Month at Gen
Throughout the month, Gen offered an #EmbraceEquity2023 challenge, inspiring employees to log their activities in our Giving Hub. #EmbraceEquity2023 revolves around two main ideas—understanding that equality is not the same as equity, and reminding people that everyone and any activity can be a part of "embracing" women and helping to advocate for them. This included wearing purple on International Women's Day for awareness, sharing inspirational quotes, thanking and recognizing a colleague, and more.
On International Women's Day, March 8, Kim Allman, Head of Corporate Responsibility and Government Affairs, in partnership with the World Association of Girl Guides and Scouts (WAGGGS), spoke on a panel during the United Nations Commission on the Status of Women (CSW) in New York City. The theme of CSW for 2023 was, "Innovation and Technological Change Education in the Digital Age," as a means to support gender equity. Kim was on a panel with Victoria Floyd, Global Brand Manager of Unilever, and six WAGGGS Global Advocacy Champions.
Head of Corporate Responsibility for Gen, Kim Allman celebrating after the panel at CSW on March 8.
Additional activities put on by Gen in support of women everywhere
On International Women's Day, our WONDER (Gen Women's Alliance) employee resource group held a Zumba class for employees as part of our focus on physical health. The group watched the inspirational TED Talk "Want to truly succeed? Lift others up while you climb," from The Way We Work TED series, followed by a discussion amongst an intimate group of employees.
We also held four #IamRemarkable workshops throughout the month. These 90-minute workshops teach the importance of self-promotion and equip participants with tools to develop this skill.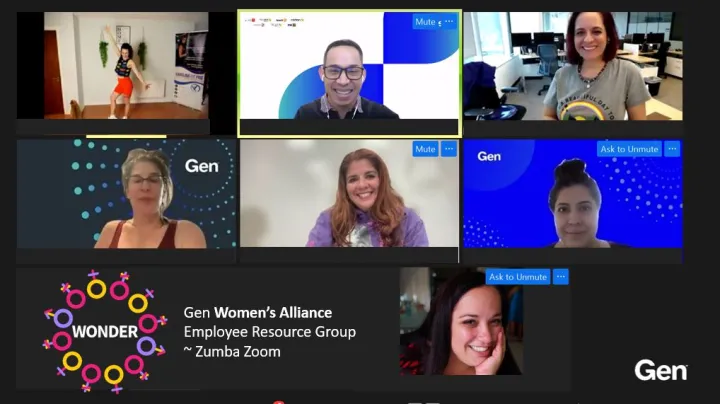 Virtual Zumba class sponsored by WONDER, Gen's Women's leadership alliance employee resource group in partnership with our Health & Wellness team.
Promoting mentorship, leadership skills, and career growth
On March 29, our Corporate Responsibility team hosted a webinar with the Girls Empowerment Network, which utilized visit.org (an online platform that provides tools and content to support employee volunteering) and focused on self-compassion and managing stress in the workplace. The mission of the Girls Empowerment Network is "to ignite the power in girls by teaching them the skills to thrive and believe in their ability to be unstoppable." Over the last 26 years, the organization has served over 15,000 girls and those who care about them.
To close out the month, our team held a Gen Women in Leadership discussion panel that included a panel of our own female leaders, including our Chief Financial Officer, Chief Product Officer, Chief People Officer, Chief Marketing Officer, and Chief Customer Success Office. Moderated by WONDER, our women-focused employee resource group, and held in a casual "Q&A style," the event was a great opportunity for attendees to learn about their leadership journey and mentorship as well as how to make progress and achieve gender equity and meet their personal goals.
While Women's History Month is coming to a close, you can get involved in advancing women's equity throughout the year. Learn more on the International Women's Day website.
Kimberly is responsible for Gen's global employee engagement and social impact programs. She leverages our team's time and talents to make communities around the world a safer place.
Editorial note: Our articles provide educational information for you. Our offerings may not cover or protect against every type of crime, fraud, or threat we write about. Our goal is to increase awareness about Cyber Safety. Please review complete Terms during enrollment or setup. Remember that no one can prevent all identity theft or cybercrime, and that LifeLock does not monitor all transactions at all businesses. The Norton and LifeLock brands are part of Gen Digital Inc. 
Copyright © 2023 Gen Digital Inc. All rights reserved. NortonLifeLock, the NortonLifeLock Logo, the Checkmark Logo, Norton, LifeLock, and the LockMan Logo are trademarks or registered trademarks of Gen Digital Inc. or its affiliates in the United States and other countries. Other names may be trademarks of their respective owners.