Gen Named One of the Most Community-Minded Companies in the U.S.
The company is named to The Civic 50 List.

Kim Allman
Head of Corporate Responsibility and Public Policy
Written by

Kim Allman
Head of Corporate Responsibility and Public Policy
Today, Gen™ has been named to The Civic 50, an annual list of the most community-minded companies in the United States. The nonprofit Points of Light has compiled The Civic 50 for more than 10 years, celebrating companies that use their time, talent, and resources to drive social impact in their businesses and communities.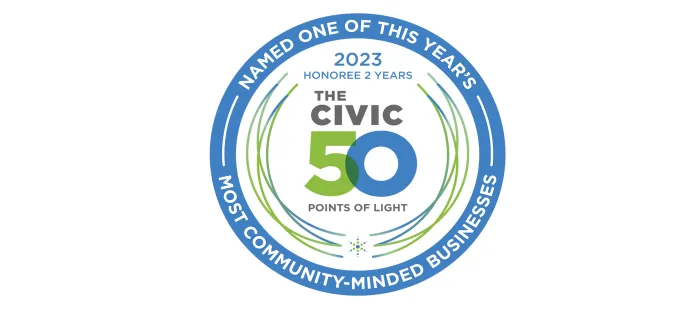 At Gen, we are committed to implementing a well-rounded social impact strategy that makes a tangible, authentic difference in the places where our team members live and work.
Creating a culture of giving has long been one of our priorities and we offer our team members year-round opportunities to give in the ways that work best for them. This includes putting their time, skills, and monetary donations to use to support the causes they care most about through Paid Time Off to volunteer, matching employee donations, Dollars for Doers grants, and both in-person and virtual service opportunities.
Most recently, Gen hosted our first-ever Global Volunteer Day, which positively impacted more than 2,400 people including students and jobseekers in California through career events, schools and teachers in Texas through supply drives, and people in need in Arizona through a food donation program, among other activities.
At Gen, we are uniquely positioned to increase digital safety and online privacy literacy, especially for vulnerable people. More than half of our philanthropic giving in FY22 was directed to programs that enable youth, women, families, and underrepresented communities to live their digital lives safely.
We offer a wide array of Cyber Safety education and training programs and partner with leading nonprofit organizations working on the ground in critical impact areas. For example, in 2022, we expanded our longtime support of the National Network to End Domestic Violence (NNEDV).
Our three-year grants of $100,000 each support NNEDV's Safety Net Program, providing engaging, interactive safety and privacy trainings and product donations to survivors, advocates, those working with survivors, and the public. Gen employee volunteers also hosted two webinars as part of this support, training the staff of organizations working to stop domestic violence and providing privacy best practices for survivors.
We are thrilled that The Civic 50 has honored these initiatives and more, and we congratulate our fellow honorees. This is the second consecutive year the company was recognized (Gen is formerly NortonLifeLock and Avast which merged in late 2022).
See the full Civic 50 List here.

Kim Allman
Head of Corporate Responsibility and Public Policy
Kim Allman leads global public policy for NortonLifeLock based out of Washington, D.C.